Pink Media has one of the few, true LGBTQ+ business-to-business set of opportunities on the marketplace today, including:
LinkedIn followers: 23,800+ followers
LinkedIn LGBTQ Advertising & Marketing group: 14,000+ members
LGBTQ B-toB E-Mail List: 16,500+ (maintained with MailChimp.com)
PinkBananaBiz.com: 5,000+ unique visitors per month

On the programmatic ad exchange, we're able to target a wide variety of characteristics unique to the world of Business-to-Business, including company size, industries, company roles and decision makers, as well as business entrepreneurs and new business start-ups. We're able to layer these data selects onto LGBTQ+ websites on the programmatic ad exchange, targeting the LGBTQ+ community's Business-to-Business market and geo-targeting this campaign to just those regions that are right for you, reaching your target market more directly than ever before.
More Info...
---

LGBTQ+ Business-to-Business Article/Press Release Distribution

Amplify Your Story | Hyper-Target Your LGBTQ+ Business Demographic
Our offer is simple. We work with you to get your story developed and then distributed via a bit of PR and a heavy dose of targeted social media.
We start with your story, in the form of an article, a video or a press releease... this serves as the foundation for this campaign. It can be an article written about your company, your product and/or your service, or even better, an #ILoveGay Today video interview. We have the writers on staff to work with you on this initial piece.
We distribute this article and/or interview using traditional PR methods, ensuring it is delivered to the right contacts at over 650 LGBTQ+ media outlets in the US and Canada. We're also able to distribute this press release through some of the more traditional PR News Wire services, including Cision, which often gets your story into Yahoo News and more.
We then combine these traditional aspects of marketing and PR and merge them with social media marketing outreach via our e-mail newsletter and LinkedIn networks outlined above, as well as via the business-to-business social media profiles within our #ILoveGay network, 650,000+ followers and growing. We also apply a portion of this budget to paid, hyper-targeted advertising on Facebook.

Cost: $4,500 for the article/interview/press release, press distribution (LGBTQ+ media AND Cision), e-mail newsletter, LinkedIn distribution, Facebook advertising AND #ILoveGay social media distribution for 30 days.
To Get Started, Pay Online Here
---
Some LinkedIn Performance Examples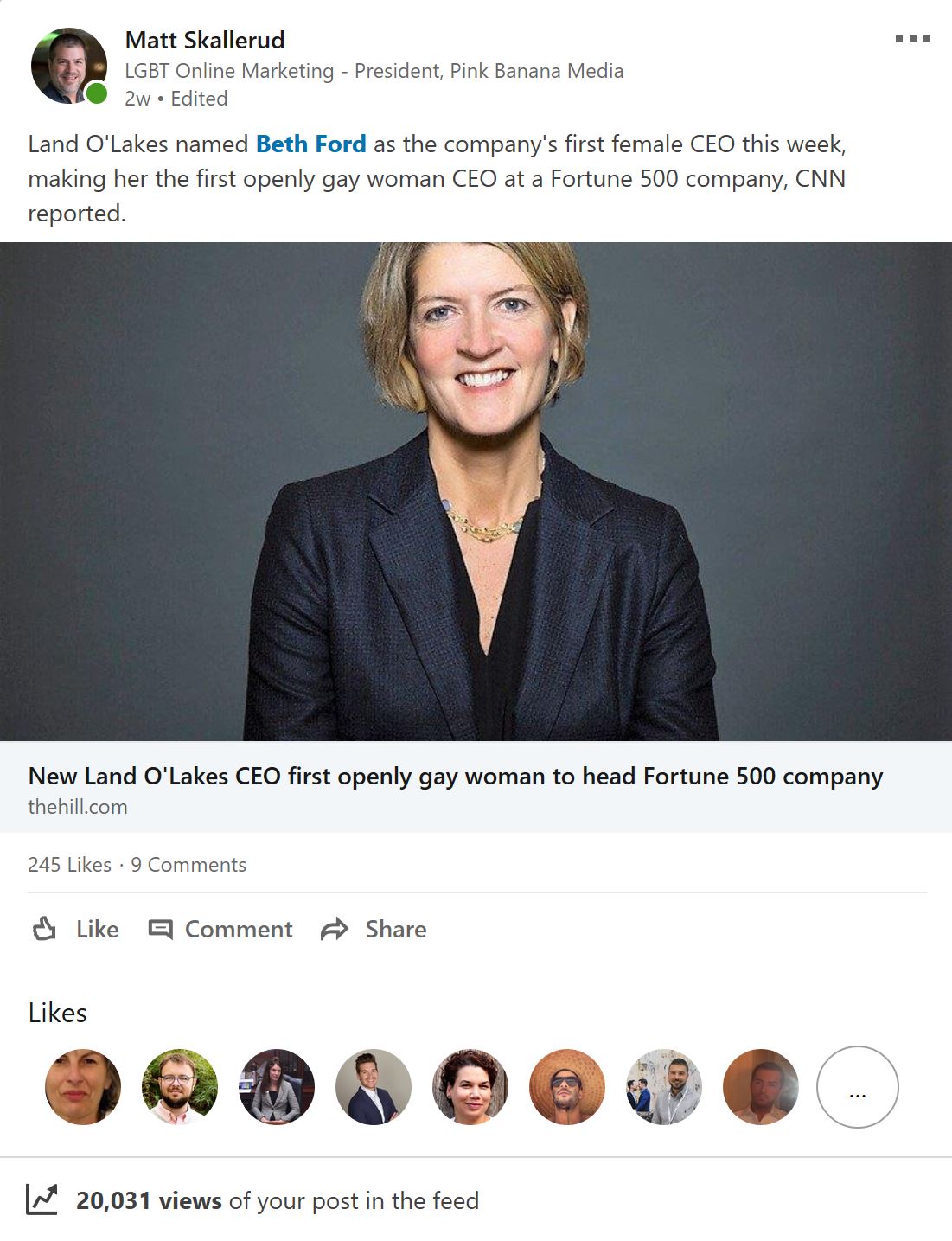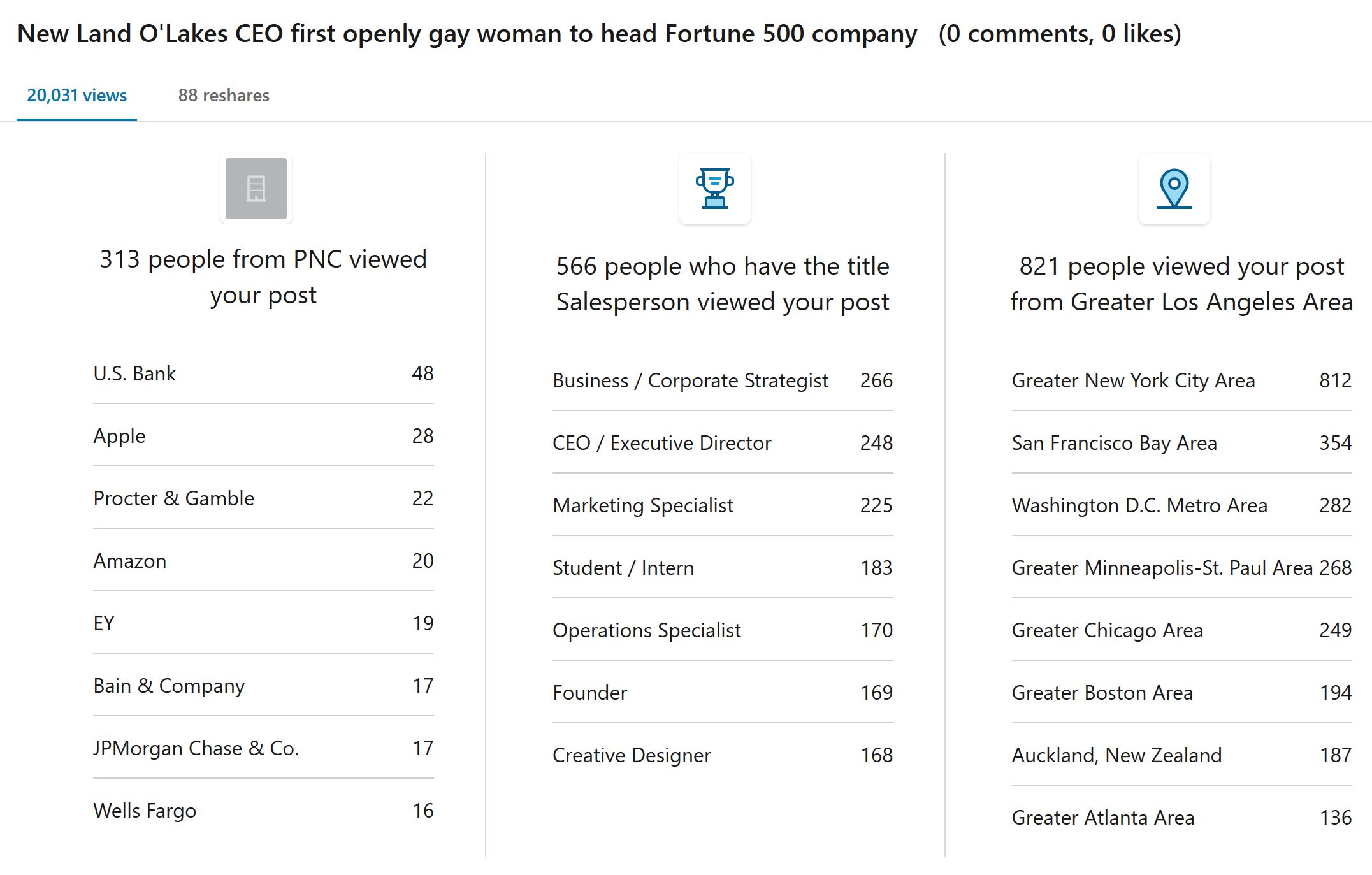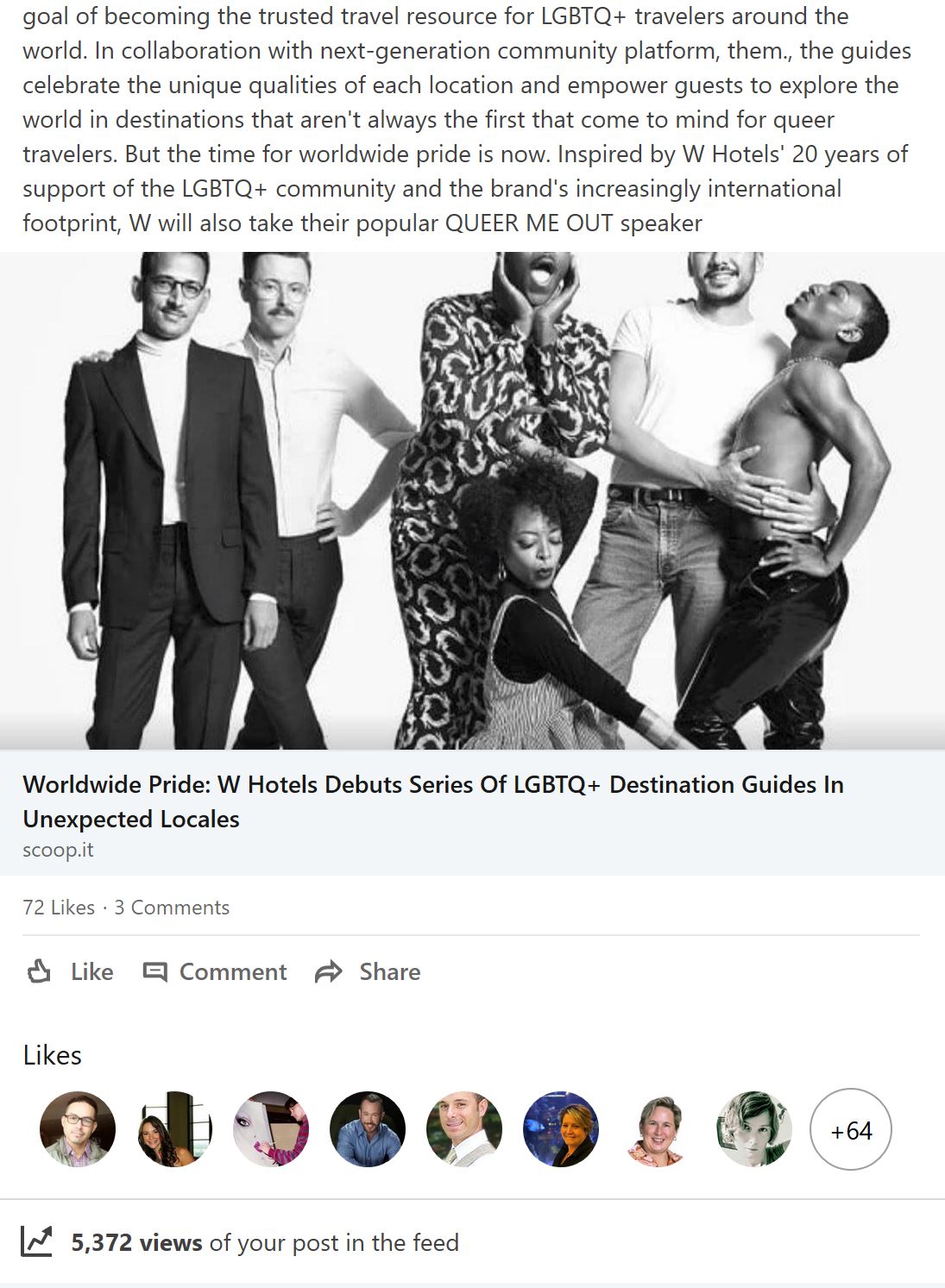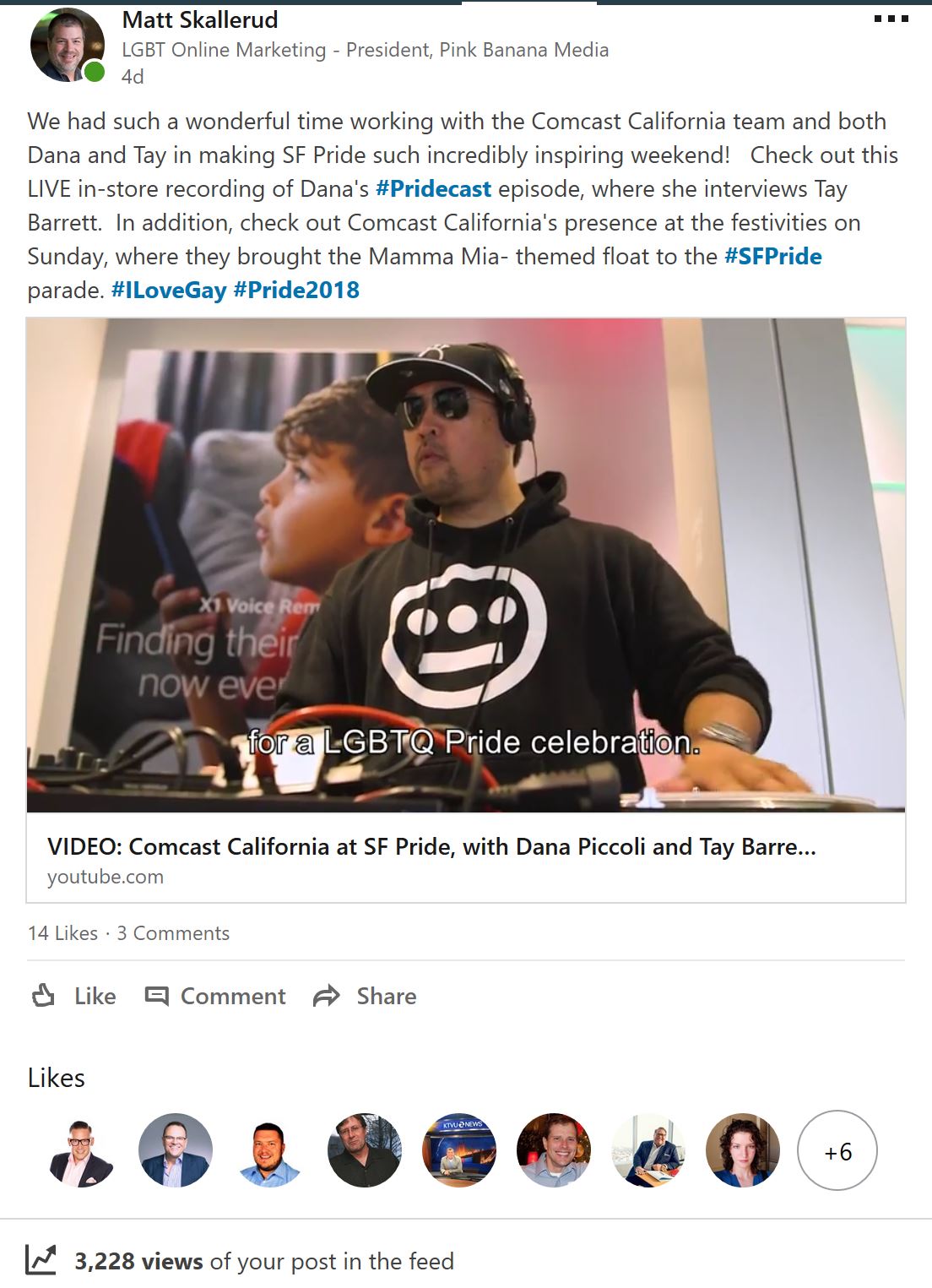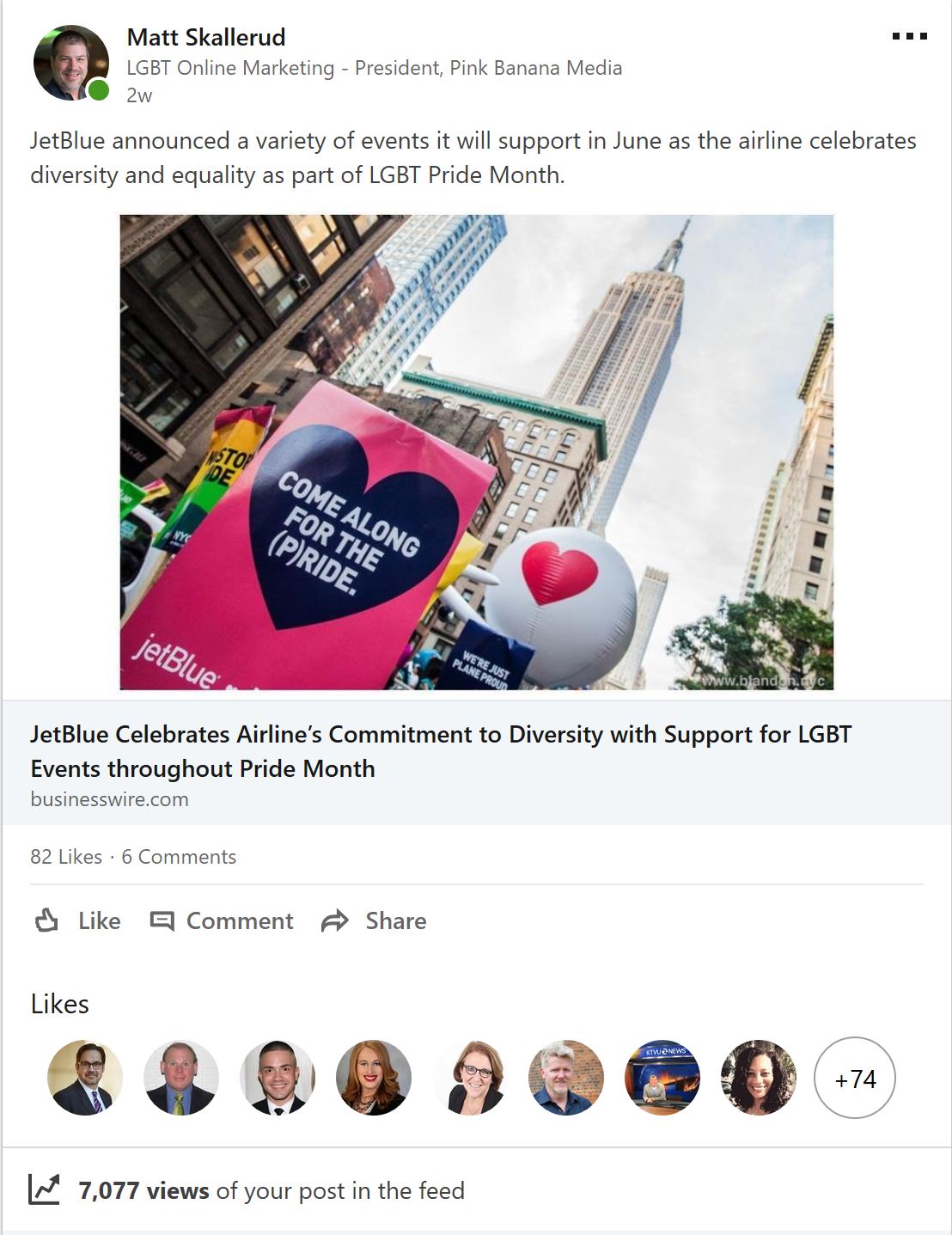 ---
Looking to market your company to an LGBTQ+ business-to-business audience? Call us at (323) 963-3653 or contact us here to get started.

Supporting Information