Introducing #ILoveGay Iowa... part of the #ILoveGay Network
HOME | Blog | Introducing #ILoveGay Iowa... part of the #ILoveGay Network
We recently wrote a blog post summarizing some of our #ILoveGay work in Iowa, in partnership with Tim Nedoba of GoGuide Iowa and Coralville Pride. This summary provides a pretty good overview of what #ILoveGay offers globally as well.

Introducing #ILoveGay Iowa (www.Twitter.com/@ILoveGayIowa), part of the #ILoveGay network Pink Media has developed exclusively on Twitter. With a focus on just the LGBTQ+ community throughout the state, #ILoveGay Iowa is a new type of media company that brings to the forefront the voices of both LGBTQ+ organizations, as well as local LGBTQ+ Iowans, placing a more balanced emphasis on the content developed by both. Including influencers, media and corporate brands also wishing to be part of these LGBTQ+ Iowa conversations, #ILoveGay Iowa has developed a unique formula and business model for discovering the latest in news, events and happenings throughout the state, including an emphasis on some of the user-generated content (UGC) posted during various Pride festivals throughout the year.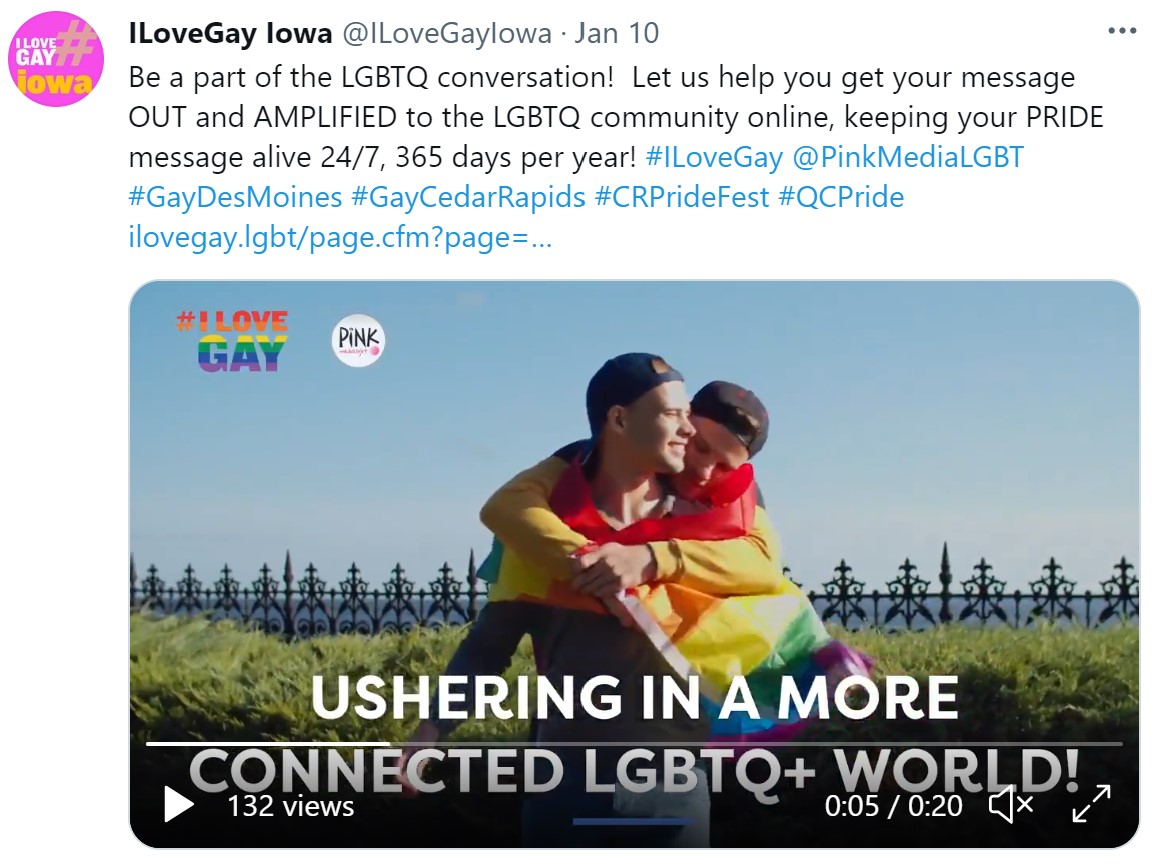 #ILoveGay Iowa is part of a wider network of #ILoveGay social media profiles that focus exclusively on their respective niches... i.e., @ILoveGayTheatre focuses on just LGBTQ+ theatre-related content and followers, while @ILoveGayNYC focuses on just LGBTQ+ life, as well as travel to, New York City. The advantages for content developed and posted in Iowa is that it not only has an audience within Iowa... #ILoveGay brings these messages out to a global audience that might also show an interest in LGBTQ+ life, and travel to, Iowa as well. A theatre post will tap into Iowa's LGBTQ+ community, and the greater LGBTQ+ theatre community worldwide. A sports post or a Pride post will do the same within their respective niche. The #ILoveGay network currently has over half a million followers and growing, thus providing an amazing and unique LGBTQ+ audience that spans all age ranges, from GenZ to Millennials to GenX and more.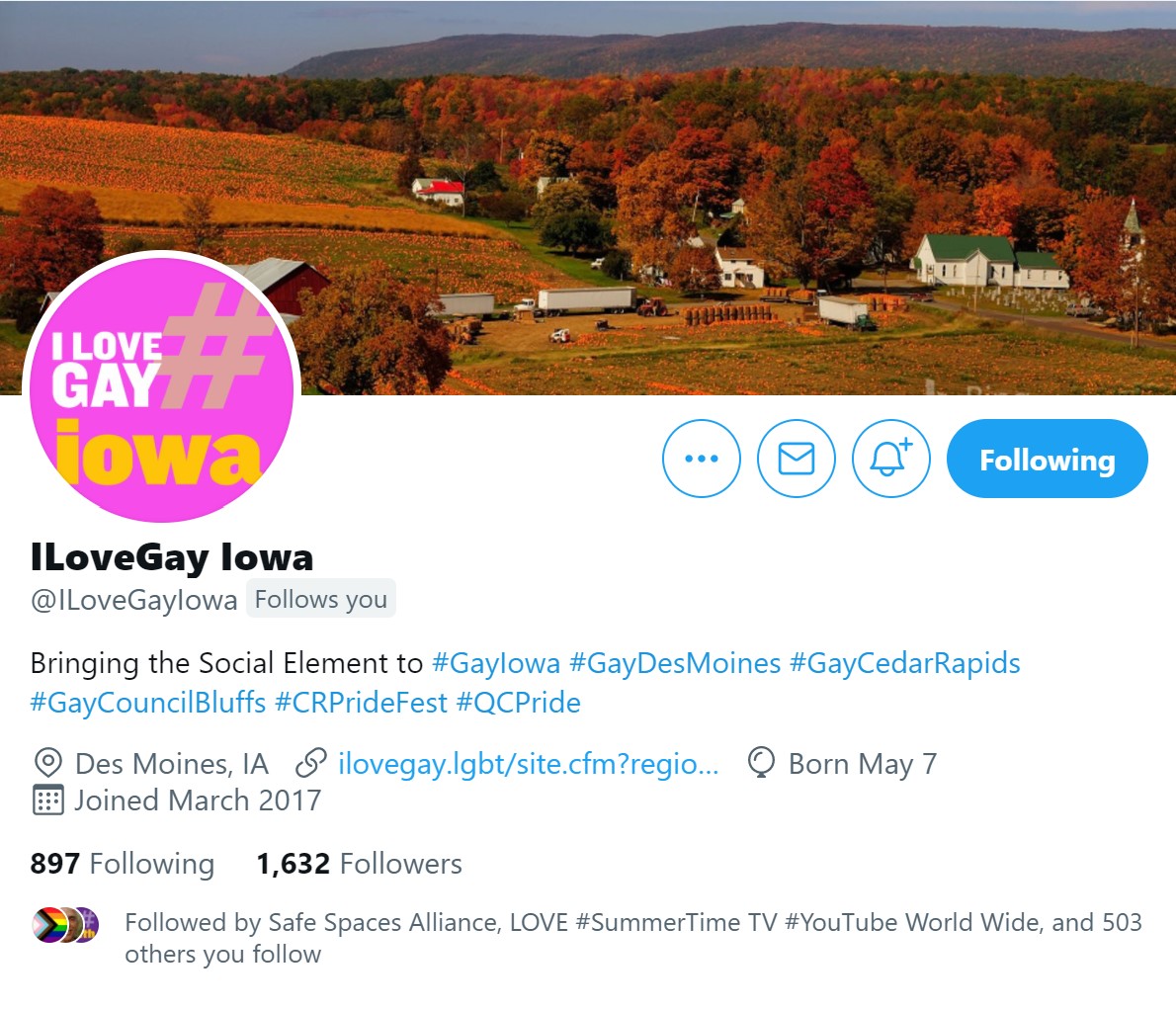 #ILoveGay Twitter 360° Network

This network is part of Pink Media, a company that has been helping companies reach their specific, targeted LGBTQ+ audience online for over 25 years now. The technologies have evolved over that time, but the basics have not. Rather than advertising to just an LGBTQ+ audience in general, Pink Media helps companies develop and execute advertising strategies that reach very unique and specific LGBTQ+ audiences that are just right for them, very similar to the niche groups the #ILoveGay network reaches every day. We encourage companies to give us a try... we help craft and develop their messaging from "speaking at" their audience to "speaking with" their LGBTQ+ targeted audience!
To learn more about how we here at Pink Media are implementing these Social Media strategies, take a look at LGBTBrandVoice.com, and for the tourism industry, LGBTDestinationMarketing.com.
---
Looking to advertise to your target LGBTQ+ audience? We work with any budgets (starting at $500 per month)... call us at (323) 963-3653 or contact us here to get started.